Packaging
We supply our products in different types of packages. Our packaging material selection places emphasis on quality and intended use of the product. We select packages facilitating easy and safe handling by users and, last but not least, complying with the requirements for hazardous substance transport.
Bottles and caps are profoundly washed and decontaminated to eliminate undesirable impurities before use.
The most typical type of packaging is dark or transparent HDPE bottles, dark or transparent borosilicate glass bottles and LDPE, PTFE, PP and PS bottles.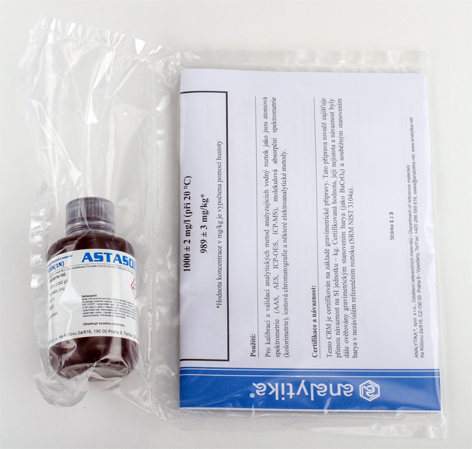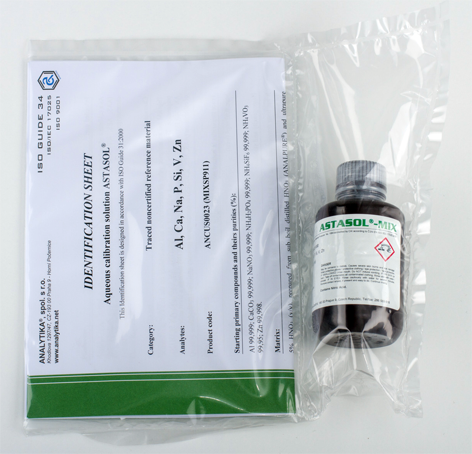 Volumes
We offer our products in a broad range of volumes, the standard ones ranging from 25 mL to 1,000 mL, or bigger in the case of solutions made to order. Solid matrix reference materials are usually offered in 40 g to 80 g packages. The offered volume ranges are specified for each individual product group.
Ordering
You can easily order all our products in our e-shop.
We also accept orders by e-mail or mail. Just choose the product code, the required volume and the number of units. Our sales representatives will send you an order confirmation immediately.
If you are not sure specify your requirements and our staff will contact you and offer you a solution.
The order number of the aqueous reference materials is created from the product code and volume.
Creating of an order number
Product Code
Volume in ml
AN90011N
100
Order number
AN90011N-100
Transport
Most of our products are classified as dangerous goods and the rules of dangerous goods transport must be observed for them. If specific transport conditions are required, we reserve the right to select the appropriate transport service.
Storage
Our products must be stored in original packages under storage conditions defined by the manufacturer. The manufacturer only guarantees the usable life and the expiration date specified on the package on condition of professional handling of the materials. Particular handling and storage conditions are specified in the individual product documentation.
Shelf life is the period for which the unused reference materials keep their certified or allocated values within the associated uncertainty ranges.
Expiration date frames the period for which the reference material manufacturer guarantees stability of the reference material from the moment of its opening (within the shelf life of the product) and is expressed as a particular date.
Terms of Use
Products of ANALYTIKA®, spol. s r.o. are exclusively designed for laboratory use. They are not intended for production of drugs or food or for domestic use. Only qualified staff may handle the products.
Responsibility for safe handling with and use of the products is exclusively with the buyer/user.